Method Statement for Segment Finishing Works
1. INTRODUCTION
1.1 PURPOSE OF THE DOCUMENT
The purpose of this procedure is to describe the procedure of operation concerning of the precast segment finishing works and ensure that all works will be conducted safely in accordance with the Project specifications.
1.2 PROJECT DESCRIPTION
Ho Chi Minh City Urban Railway Construction Project – Ben Thanh – Suoi Tien section (Line 1), contract Package 2 consists of approximately 12 km long of elevated viaduct structures, erected by span-by-span Method.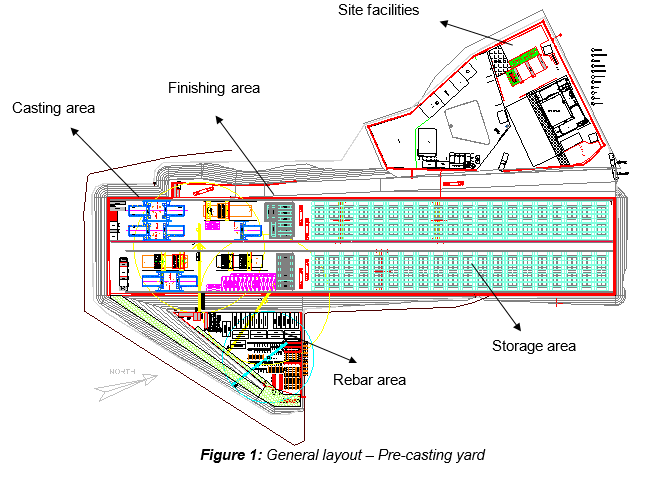 1.3 SCOPE OF WORK
This procedure is developed for segment finishing works and applies to all precast segments composing the viaduct superstructure works of the HCMC Metro Project.
1.4 REFERENCES
All reference documents are intended to refer to the last issued revision.
Specifications

Clause 5.15.4 "Finishes to Exposed Concrete Surfaces" Section 5-20 of 23 from Outline construction specification – Package 2: Civil (Elevated & Depot).
1.5 DEFINITIONS
In these Terms & conditions the meanings assigned to words and expressions shall be the following:
"Finishing" means the act to clean by suitable cleaning equipment the concrete segment surface.
For further definitions, refer to the Method Statement "General precasting work at precasting yard" HCMC-261-CSYD-CWS-MST-00012
2. SAFETY & ENVIRONMENTAL RISKS
2.1 HAZARD ANALYSIS & RISK ASSESSMENT
Hazards Analysis and Risks assessment are carried out and attached in this Method Statement. This document will identify all the hazards to ensure adequate control measures and strategies are in place to mitigate as much as possible the risks (Appendix A).
All personnel carrying out the work will be properly trained by experienced supervision. Besides, all personnel shall wear the appropriate PPE (Personal Protective Equipment), such as Safety shoes, safety helmet and safety harness if required.
2.2 TOOLS AND EQUIPMENT
All tools & equipment shall be in safe condition before utilisation and fit for its purpose.  
2.3 EMERGENCY RESPONSE
In the event of an accident/incident, response will carried out in the appropriate procedure, such as:
Remedial Actions, proposing actions to ensure that the Accident/Incident will be fully fixed, as required, managed by the Responsible within a target date.
Preventive Actions, proposing actions to ensure that the Accident/Incident will never happen again, including for example: Toolbox Meeting (TBM) held by the Safety Officer to ensure that Site Team (Workers, Supervisors & Engineers) fully understand methods & risks.
Prestart and Toolbox talk will reinforce safety requirements prior to commencement of the work.
3. CONSTRUCTION RESOURCES
In principle every type of work involves the following resources:
3.1 PERSONNEL
The personnel involved are such as:
Site engineers
Supervisors
Workers
3.2 PLANT AND TOOLS
Hand tools
High pressure water jet
Electric sanding machine
Hammer & chisel
Trowels
Mobile scaffolding platform
Mobile staircase
3.3 MATERIALS
Not applicable  
4. CONSTRUCTION PROCESS
4.1 INTRODUCTION
After casting completed, segment will be cured on the precasting bed. Refer to the method statement "Curing of segment" HCMC-261-CSYD-CWS-MST-00021
Segment shall stay at least two days on the soffit and until the lifting concrete strength of 25MPa is reached, then transferred from mould to finishing area by 50ton gantry crane.
Segment shall be placed on designed support blocks as described in drawing (Appendix A).
4.2 REMOVAL OF DEBONDING AGENT
The debonding agent shall be a material which self degrade and thus may not require any removal. However, after testing, if there is trace of debonding agent remaining, it shall be removed by high pressure water cleaner.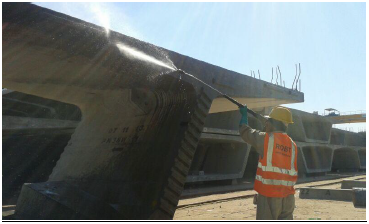 4.3 CLEANING OF SURFACES
If necessary, each segment surfaces shall be cleaned from any traces of mould oil or dirt.
4.4 CLEANING OF PT DUCT AND ANCHORAGE
Corrugated PT duct and anchorage of each segment shall be checked. Any slurry shall be removed.
4.5 APPLICATION OF CEMENT SLURRY FOR PROTRUDE REINFORCEMENT
Precast segment completed may be stored quite long in the storage area in precasting yard, prior to delivery. There is the possibility that the exposed inserts rebar be heavily rusted by the time of delivery. To prevent such rust, a layer of cement slurry shall be painted over the protrude reinforcement
4.6 PROTECTION OF OCS MAST ANCHOR
If required, OCS mast anchor shall be protected as per specification defined by CP3 contractor.
4.7 REPAIRING WORKS
Repairing works will be proceed, if needed, in accordance with the method statement "Segment remedial works" HCMC-261-CSYD-CWS-MST-00025.
4.8 TRANSFER TO STORAGE AREA
After finishing works completed, segment will be checked and accepted, then transferred by 50ton gantry crane from finishing area to storage area.
5. ACTIVITY HOLD POINTS
Hold points will be identified in the Inspection & test Plan. Refer to the ITP "Precast segment production".
6. INSPECTION & RECORDS
All Inspection / check-lists & documents records will be identified in the Inspection & test Plan. Refer to the ITP "Precast segment production".
7. ATTACHMENTS
7.1 APPENDIX A: HAZARD & RISK ASSESSMENT "SEGMENT FINISHING WORKS"
7.2 APPENDIX B: FINISHING AREA