Method Statement for Segment Concreting Works at Precasting Yard
1. INTRODUCTION
1.1 PURPOSE OF THE DOCUMENT
The purpose of this procedure is to describe the procedure of operation for the concreting of precast segments, and ensure that all works will be conducted safely in accordance with the technical drawings and the project specifications.
1.2 PROJECT DESCRIPTION
Ho Chi Minh City Urban Railway Construction Project - Ben Thanh - Suoi Tien section (Line 1), Contract Package 2 consists of approximately 12 km long of elevated viaduct structures, erected by span-by-span method. All activities related to the construction of reinforced concrete precast segments will be carried out in the precast yard, located in Road 11, Long Bình Ward, District 9, HCMC.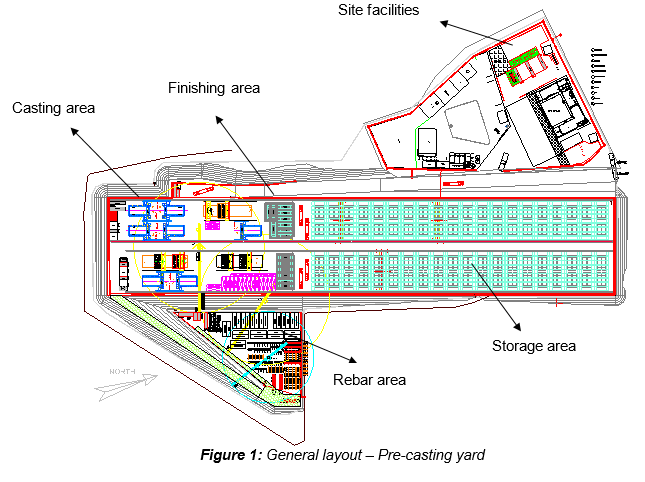 1.3 SCOPE OF WORK
This procedure defines the concrete placing which need to be applied for all precast segments, including the following activities:
Pouring of concrete
Surface finishing
1.4 REFERENCES
Specifications:

Reference is made to clause 5.15.1: "Placing concrete", section 5-12 of 23, from Outline Construction Specification Package 2: Civil (Elevated & Depot).
Reference is made to clause 12.4.1 "Precast Segment Casting" - (7) "Concrete placement, consolidation and finishing", section 12-9 of 19, from Outline Construction Specifications Package 2: Civil (Elevated & Depot).
Japanese Industrial Standards (JIS), Standard Specifications for Concrete - Japan Society Civil Engineers (JSCE), AASHTO & ASTM Standards and Vietnamese Industrial Standards.

Method Statement:

Method Statement "Curing of segments" - HCMC-261-CSYD-CWS-MST-00021
Method Statement "Precast segment production - Short Line Typical mould" - HCMC-261-CSYD-CWS-MST-00041 All reference documents are intended to refer to the last issued revision.
2. SAFETY & ENVIRONMENTAL RISKS
2.1 HAZARD ANALYSIS & RISK ASSESSMENT
Hazards Analysis and Risks assessment are carried out and attached in each method Statement. This document will identify all the hazards to ensure adequate control measures and strategies are in place to mitigate as much as possible the risks (Refer to appendix A).
All personnel carrying out the work will be properly trained by experienced supervision. Besides, all personnel shall wear the appropriate PPE (Personal Protective Equipment), such as Safety shoes, safety helmet and safety harness if required.
2.2 TOOLS AND EQUIPMENT
All tools & equipment shall be in safe condition before utilisation and fit for its purpose.
2.3 EMERGENCY RESPONSE
In the event of an accident/incident, response will carried out in the appropriate procedure, such as:
Remedial Actions, proposing actions to ensure that the Accident/Incident will be fully fixed, as required, managed by the Responsible within a target date.
Preventive Actions, Tool-Box Talk (TBT) will be held by the Safety Officer for Site Personnel. It will reinforce safety requirements prior to commencement of the work and will ensure that Site personnel fully understand method & risk.
3. CONSTRUCTION RESOURCES
In principle every type of work involves the following resources:
3.1 PERSONNEL
The personnel involved are such as:
Site engineers
Supervisors
Concrete pump operator
Concrete mixer Operator
Workers
3.2 PLANT AND TOOLS
The following equipment shall be used for purpose of segment concreting works:
Concrete pumps (minimum radius = 36m)
Concrete bucket (stand-by)
Compressed air network
External vibrators
Internal poker vibrators
Frequency converters
Stand-by poker vibrators (at least 4)
Hand tools (trowel, wheel barrow, chute, rubber mallet, etc.)
3.3 CONCRETE
Concrete for precast segment shall be early strength Grade 45 (K450), with 28 days cylinder strength of 45MPa, supplied by Sumitomo Corporation shall comply with clause 5 "Concrete" from Outline Construction Specifications Package 2: Civil (Elevated & Depot).
Mix Design Table as below
S (kg)
Grade (MPa)
Slump (mm)
W/C
W (liter)
C (kg)
CS (38%)
FRS (62%)
G (kg)
Ad. (litre)
45 (Mix 1)
200+/-25
0.32
150
475
310
496
1054
3.800
45 (Mix 2)
200+/-25
0.33
150
460
312
500
1061
4.140
Notes: W-Water, C-Cement, S-Sand, G-Stone, Ad-Admixture, CS-Crushed Sand, FRS-Fine River Sand
Two Mix Design of Concrete above will be used for trial segment fabrication after completion of product we will consider one of them for permanent works.
4. CONSTRUCTION PROCESS
4.1 PRELIMINARY
External vibrator shall be installed at soffit table and external form of Short Line moulds. For Long Line mould, no external vibrator required at soffit table but external vibrator shall be installed at external forms.
The Production supervisor shall place order for the concrete quantity according to the type of segment to cast. Prior to casting, slump test has to be done for determining the workability of the concrete.
Concreting of segments shall not commence until the consent of the Contractor's Representative has been obtained. Prior to commencing casting, the Production supervisor makes sure that the concreting team are ready for the work and also all related equipment / tools are cleaned and ready to be used.
Additionally, 4 units of stand-by vibrators in working condition shall be provided for emergency use in case of malfunction.
4.2 CONCRETING PARAMETERS
Concrete parameters below are mentioned just for information:
Fresh concrete
Temperature not exceeding 35 degree C
Workability of concrete mix shall be determined by Slump test = 200mm +/- 25 mm performed in accordance with JIS A 1101 or AASHTO Test Method T119.
Slump retention shall be at least 1 hour upon delivery to precasting yard.
Visual inspection of any irregularity (segregation etc.)
Pumpable mix
Ready-mixed concrete
Concrete shall be compacted and in its final position within 2hours of the introduction of cement to the aggregates. Concrete time delivery shall be recorded in the appropriate Delivery Note. Concrete compressive strength shall be based on cylinder test in accordance with JIS A 1108 or AASHTO Test Method T22.
Samples shall be taken from every 30m3 of concrete placed, or at least for every segment
Early strength at 12 hours at least 14MPa for mould removal - 3 samples
36 hours compressive strength at least 36MPa for lifting segment - 3 samples
14 days compressive strength at least 45MPa for segment delivery - 3 samples
28 days compressive strength for records
The whole previous QA/QC issues will be identified and properly explained in the Inspection and Test Plan "Precast segment production"
4.3 BATCHING AND MIXING OF CONCRETE
4.3.1 Control, Handling & Storage of Materials
Coarse and fine aggregates, cement, and chemical admixture should be stored, batched and handled to maintain the quality of the resulting concrete. The stockpiles shall be built up in horizontal or gently sloping layers not by end dumping.
Different grades of aggregates shall be stored separately and in such a manner as to prevent contamination by foreign material. The storage bins shall be constructed to permit drainage of stockpiles and to prevent intermingling of the different grades of aggregates and segregation. If necessary shading shall be provided.
All cement should be stored in silo and properly ventilated structures to prevent absorptions of moisture. Water for Concrete production shall be supplied from city or municipal systems, wells, from any source determined to be suitable. Mixing water & water pipes should be leak free.
4.3.2 Measurement & Batching
The equipment and tools required for the batching and mixing of concrete shall be adequate.
Batching shall be by weigh-batching machines equipped with accuracy checks for the weighing mechanism. The machines shall be cleaned, checked and adjusted regularly. The water supply to the concrete mixers shall have a metering system to control and record the amount.
Batch plant bins & components should be adequate size to accommodate the productive capacity of the plant.
Each aggregate shall be weighed in their separate sizes. The weight of the fine and coarse aggregate shall be adjusted to allow for the free water contained in them. The water to be added to the mix shall be reduced by the quantity of free water contained in the fine and coarse aggregate.
Batched materials shall be measured out within the required tolerances (mentioned on the Section 5 of Outline Construction Specifications, Volume 5) and discharged into the mixer without loss.
The weight of cement, the volume of water & the total weight of the fine & coarse aggregates in each batch shall be accurately measured.
The weighing and water-dispensing mechanism shall be maintained in good order and their accuracy checked against known weights and volumes as required by the Employer's Representative.
Measuring equipment shall be checked and calibrated at the start of preliminary concrete tests and as required by the Employers' Representative.
The necessary test weights and the like shall be kept available on site.
######4.3.3 Mixing of Concrete
The concrete shall be mixed in a power driven batch mixer which has been agreed by the Employer's Representative.
The quantity of material in each batch shall not exceed the rated capacity of the mixer and the speed rotation shall be tolerance within +/-1 rpm of that recommended by the manufacturer. Mixing shall continue for not less than 1 minute (quoted from 5.8.5 of OCS).
Mixers which have been out of use for more than 30 minutes shall be thoroughly cleaned before any fresh concrete will be mixed.
Concrete shall be thoroughly mixed until uniform in appearance and all ingredients are distributed to produce uniform and satisfactory quality concrete.
Excessively long mixing times should be avoided to guard against grinding of the aggregates.
Mixing plant shall be thoroughly cleaned before changing from one type of cement to another.
Method to Control - Monitor Quality of Concrete Mixed at Mixing Plant
4.3.4 Method to Control - Monitor Quality of Concrete Mixed at Mixing Plant
In order to monitor good quality of concrete mixed at mixing plant, the following items and method must be considered:
Good Conditions of Equipment and Allied Components
The Contractor will ensure that all Mixing Plant Equipment and its allied components are in good working conditions and well-functioning before it will be used for mixing
Regularly checked and ensure that it will be maintained its efficiency
Measuring Equipment and Other Measuring Unit Devices
Accuracy and consistency in measurement results will be observed
Measuring unit devices for aggregates, cement, and others must be calibrated
Good Quality Materials
Ensure that materials are not contaminated and mixed with other foreign materials
Materials should be stored properly
Mixing Operations
All controls should operate smoothly and be connected according to the Manufacturer's Recommendation
All material- feed operations must start & stop simultaneously
All materials should be handled in accordance with good concrete practices
Particular care should be taken during loading to avoid spilling materials into the wrong compartments
The moisture content of the fine aggregate must be carefully controlled to avoid undesirable variations in the mixture
Visual observation of the concrete during mixing is important in order to maintain a uniform mixture, particularly with a uniform consistency
All shields and covers should be in placed.
Ensure uniformity of materials and their measurement
Control of Concrete Temperature
When Temperature is more than 35°C, typical construction practices can be considered: These are:
Cooling mixing water (Chiller)
Replacing a portion of the mixing water with ice
Shading aggregates in storage
Shading aggregate conveyors
Spraying aggregate stockpiles for evaporative cooling effect
Immersion of coarse aggregates
Personnel Awareness and Knowledgeable in Operating the Equipment and Other Devices
The personnel in Mixing Plant shall be responsible for control and knowledgeable in all phases of equipment use
Operators must also understand the significance of any adjustment made
Personnel authorized to make adjustments of the proportioning controls should have received training and/or have undergo On the Job Training with Qualified Personnel
Keep Detailed Record during Mixing Operation
In order to ensure the record of mixing concrete is the same with designed proportion and control other matters at batching plant related to mixing operation , the SCC's will assign QC Inspector at the Batching Plant
Time and date of mixing, proportions of materials used and specific mix design, required volume of Concrete to produce and other relevant monitoring record shall be recorded
SCC shall set up and arrange mixing operation program in batching plant to print out the Detailed Record during mixing operation for every concrete batch automatically. As much as possible, this record shall be send to site for checking before placing concrete on site.
4.4 TRANSPORT OF CONCRETE
The ready-mixed concrete shall be obtained only from a supplier agreed by the Employer's Representative. Transporting fresh concrete from the mixing plant to the Site of placement shall be carried in purpose-made agitators, or by concrete truck mixers operating continuously.
If agitator trucks have water reservoirs, these shall be removed or otherwise sealed to prevent any water being added to the concrete either accidentally or deliberately.
The method of transportation should efficiently deliver the concrete to the point of placement without losing mortar or significantly altering the concrete's desired properties associated with slump and homogeneity.
Each step in handling and transporting of concrete needs to be controlled to maintain uniformity within from batch to batch.
Use of protective covers shall be considered especially during periods of inclement weather.
Preparation and installation of clear marked sign-board at site for traffic direction or diversion should be considered for the smooth flow of truck mixers who will be transporting concrete on the exact locations of pouring.
Concrete shall be transported and placed that contamination, segregation, or loss of the constituent materials does not occur.
Workability shall be checked in the site by slump tests. Temperature reading will be taken from the concrete mix and it will not be more than 35º.
Concreting will be carried out in one continuous pouring operation to avoid cold joints by using concrete pump or bucket.
Samples taken from different portions of a batch should have essentially the same unit weight, slump and coarse aggregate content.
4.5 QUALITY CONTROL
All materials will comply with requirements in Outline Construction Specification and the required inspections and tests at site will be carried out in compliance with approved ITP and quality control plan.
4.5.1 Inspection and Testing
The ready-mixed concrete shall be used for segment concrete. Ready-mixed concrete must be supplied from the approved suppliers.
Concrete mix proportion shall be approved before use.
Frequency of testing and sampling of ready-mixed concrete at construction site are performed in the table below
No Item Frequency Remark 1 Temperature of concrete Every truck 2 Slump of concrete Every truck 3 Cylinder sample 1 set / every 30m3, not less than 1 set / casting time Based on Outline Construction Specifications
Specimens shall be cured for 24 hours after sampling, covered with a wet straw mat to keep it moist and prevented from any vibration at the site.
On the next day, specimens shall be un-moulded and placed in to a water tank at the laboratory. Water shall be supplied enough for the water tank to submerge specimens.
Specimens shall be tested at the approved laboratories at the age of 28days, 14days, 36hours, 12hrs.
4.6 CONCRETE PLACEMENTS SEQUENCE - TYPICAL SEGMENT
During concreting, pump with a suggested radius of 38m is used for segment concreting. The transit mixer truck delivers the concrete into the concrete pump, then to the mould. Concrete shall not be dropped into place in the mould from a height exceeding 1.5m.
All the inspection required before casting have to be performed very strictly in compliance with the acceptable tolerances. Any non-compliance issue has to be corrected before casting. (Refer ITP "Precast segment production").
During placement and consolidation of concrete, particular care shall be taken to avoid displacements, damages, and maintained in their proper positions post-tensioning ducts, anchorages and any other embedded items.
The depth of a layer shall not exceed 600mm. Each layer will be vibrated properly with immersion vibrators. Concrete vibration will be carried out with care around PT ducts, anchorages and congested re-bar zones.
STEP 1: CONCRETING OF BOTTOM SLAB

Concrete shall first be placed in the central portion of the bottom slab between the inside edges of the internal web forms, leaving a narrow gap of 150 to 300mm for inspection and consolidation of the bottom corners when the next load is placed in the webs.
STEP 2-3: CONCRETING OF LOWER PART OF LATERAL WEBS

The concrete shall then be placed in the bottom corners of each web to connect and be consolidated with that already placed in the bottom slab.
STEP: PREVENT UNEXPECTED UPLIFT OF CONCRETE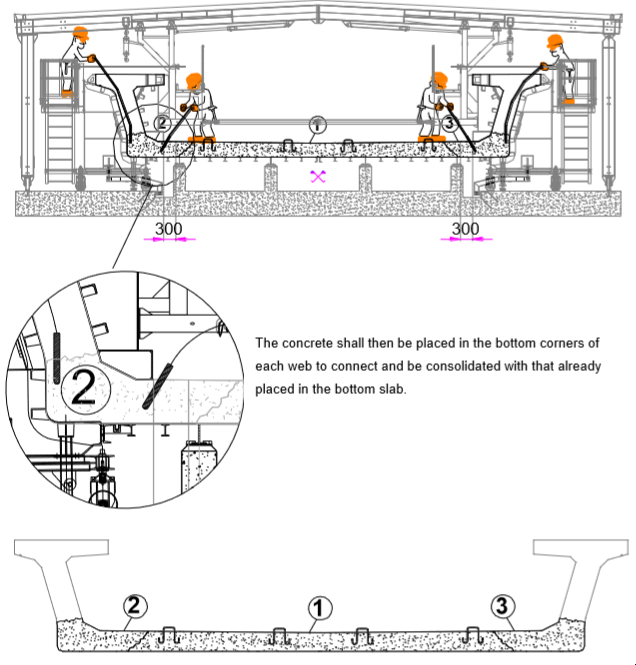 To prevent any unexpected uplift of concrete during web pouring of the lateral webs, longitudinal planks/timber and C-channel shall be placed over area shown, both side, all maintained with vertical struts.
STEP 4-5: CONCRETING OF LATERAL WEBS IN LIFTS NOT EXCEEDING 0.6M

Concrete shall then be placed in the remaining parts of the webs in lifts not exceeding 600mm at a time up to the top of the webs.
STEP 6-7: CONCRETING OF THE LATERAL TOP FLANGE OF THE WEBS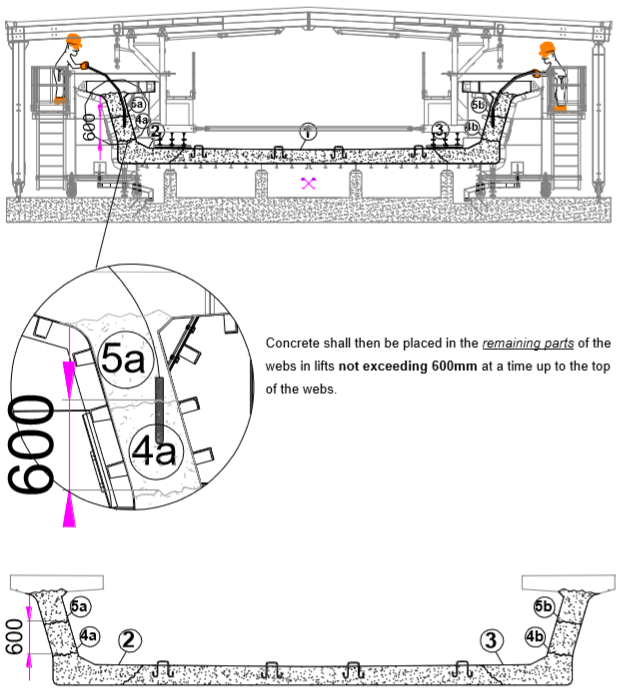 Concrete the top flanges; completing the left flange and then the right flange.
STEP 8: FLOATING CONCRETE SURFACE OF SEGMENT
For finishing, long straight aluminium hollow section shall be used to level the concrete surface at the both top flange and bottom slab of the segment. Suitable tools, such as steel trowel, shall be also used to smooth the concrete surface near the starter bars, and other inserts.
1st steel floating will be done immediately after concreting by finishing workers.
Then the 2nd steel floating will be carried out, approximately 40-60min after the initial one, and will allow better finish and close shrinkage crack, if any.
Exposed concrete surface shall be cured. Refer for more details to method statement "Curing of segments" HCMC-261-CSYD-CWS-MST-00021.
Broom finish at track bed
Finishing workers shall broom finished areas of track bed.
A sample of the broom finish roughness shall be agreed with CP3 Contractor.
4.7 CONCRETE PLACEMENTS SEQUENCE - PIER SEGMENT
The casting sequence for Pier segment follows the same sequence as described previously for the Typical casting sequence.
4.8 CASTING ORGANIZATION
In case of an unexpected concrete pump break down, concreting may be continued using concrete bucket (2m3) with a bottom discharge. With a load of 4,4Ton/ bucket, the tower crane TC #1 (50 operating radius & 6.89Ton tip load) will be able to lift the concrete bucket into each mould. Alternatively, the 10Ton Gantry Crane will be used to lift the concrete bucket instead of the tower Crane.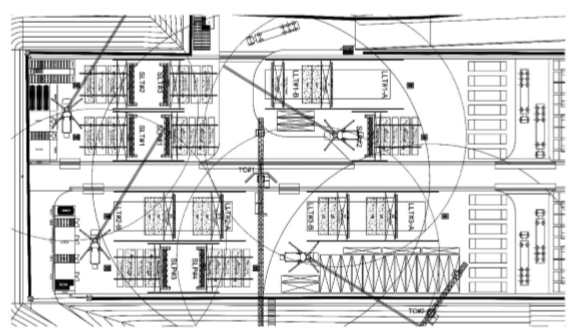 Assumptions:
Vertical reach = 42.8m
Horizontal reach = 38.9m
Unfolding reach = 9.9m
5. ACTIVITY HOLD POINTS
Hold points will be identified in the Inspection & test Plan. Refer to the ITP "Precast segment production"
6. INSPECTION & RECORDS
All Inspection / check-lists & documents records will be identified in the Inspection & test Plan. Refer to the ITP "Precast segment production"
7. ATTACHMENTS
7.1 HAZARD ANALYSIS & RISK ASSESSMENT