Method Statement for Curing of Segments
1. INTRODUCTION
1.1 PURPOSE OF THE DOCUMENT
The purpose of this procedure is to describe the procedure of curing operation concerning of the precast segment and ensure that all works will be conducted safely in accordance with the Project specifications.
1.2 PROJECT DESCRIPTION
Ho Chi Minh City Urban Railway Construction Project - Ben Thanh - Suoi Tien section (Line 1), Contract Package 2 consists of approximately 12 km long of elevated viaduct structures, erected by span-by-span method. All activities related to the construction of reinforced concrete precast segments will be carried out in the precast yard, located in Road 11, Long Bình Ward, District 9, HCMC.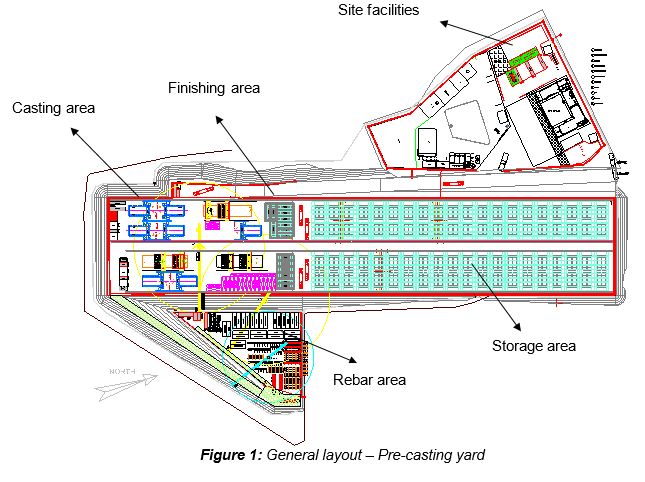 1.3 SCOPE OF WORK
This procedure defines the curing works and applies to all precast segments composing the viaduct superstructure works of the HCMC Metro Project.
1.4 REFERENCES
All reference documents are intended to refer to the last issued revision.
Specifications

Clause 5.12 "Curing agents" Section 5-12 of 23 from Outline construction specification – Package 2: Civil (Elevated & Depot)

Method Statement

HCMC-261-CSYD-CWS-MST-00024"Segment finishing works"

Approval of materials

"Curing compound (Concure 90 White)"
"Curing compound (Masterkure 191 white)"
"Curing compound (Antisol E White)"
"Curing compound" (Antisol S)
1.5 DEFINITIONS
"Curing" means the treatment to which a freshly cast concrete segment shall prevent loss of moisture from the concrete.

"Curing compound" means the specific product spray applied on the concrete surface to ensure an adequate curing process.

"Debonding agent" means the specific product providing an easy separation between the cast segment and the match-cast segment.
For additional definitions, refer to the method Statement "General precasting works at precasting yard" HCMC-261-CSYD-CWS-MST-00012
2. SAFETY & ENVIRONMENTAL RISKS
2.1 HAZARD ANALYSIS & RISK ASSESSMENT
Hazards Analysis and Risks assessment are carried out and attached in this Method Statement. This document will identify all the hazards to ensure adequate control measures and strategies are in place to mitigate as much as possible the risks (Appendix A).
All personnel carrying out the work will be properly trained by experienced supervision. Besides, all personnel shall wear the appropriate PPE (Personal Protective Equipment), such as Safety shoes, safety helmet and safety harness if required.
2.2 TOOLS AND EQUIPMENT
All tools & equipment shall be in safe condition before utilisation and fit for its purpose.
2.3 EMERGENCY RESPONSE
In the event of an accident/incident, response will carried out in the appropriate procedure, such as:
Remedial Actions, proposing actions to ensure that the Accident/Incident will be fully fixed, as required, managed by the Responsible within a target date.

Preventive Actions, proposing actions to ensure that the Accident/Incident will never happen again, including for example: Toolbox Meeting (TBM) held by the Safety Officer to ensure that Site Team (Workers, Supervisors & Engineers) fully understand methods & risks.
Prestart and Toolbox meeting will reinforce safety requirements prior to commencement of the work.
3. CONSTRUCTION RESOURCES
In principle every type of work involves the following resources:
3.1 PERSONNEL
The personnel involved are such as:
Site engineers
Supervisors
Workers
3.2 PLANT AND TOOLS
3.3 MATERIALS
As per "OCS package 2 Civil – Clause 5.12" the curing compound shall be liquid membrane forming compound conforms to the requirements of AASHTO Standard Specification M148 Type 2 or equivalent standard specification, such as one of the following material is approved to be used:
Curing compound (Concure 90 White)
Curing compound (Masterkure 191 white)
Curing compound (Antisol E White or Antisol S)
4. CURING PROCESS
4.1 GENERAL
Curing compound shall be applied as per product specification. The curing compound is spray using a manual sprayer.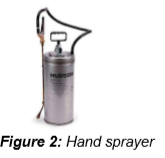 4.2 PHASE 1: AFTER CASTING, APPLY HESSIAN + WATER
After concreting operations, when segment is still in precasting bed, hessian shall be applied with water to the top flange of the web and top slab surfaces in the segment.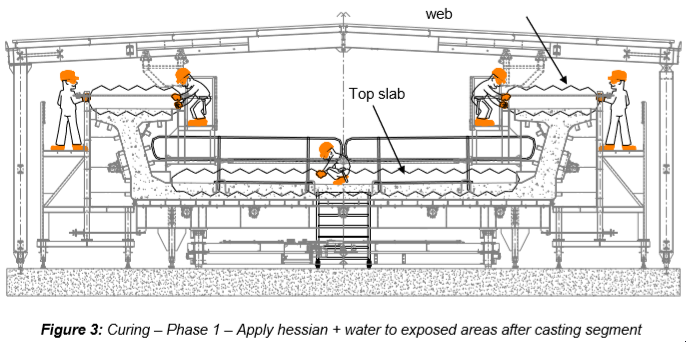 4.3 PHASE 2: AFTER STRIPPING, APPLY CURING COMPOUND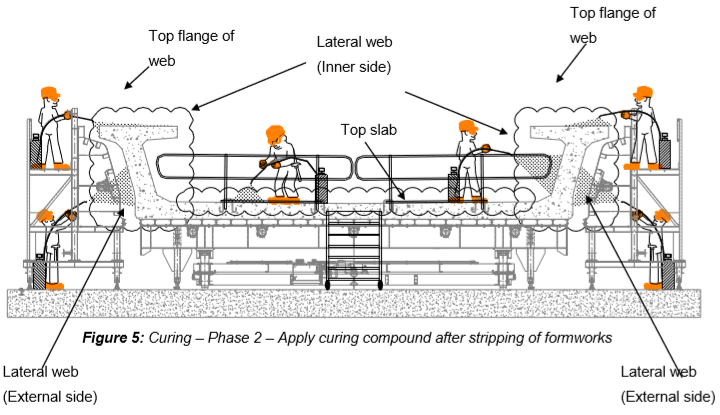 Upon achieving demoulding strength (approximately 12hours age), inner forms and external side forms are stripped. After stripping of formworks completed, a layer of approved curing compound shall be applied to the lateral webs (internal & external) of the segment
Wet hessian on horizontal surfaces shall be maintained during match-casting stage.
After segment has been used for match-casting (36 hours age) but still located on formwork soffit, all wet hessian shall be removed and replaced by curing compound.
After bond breaking of match-cast segment, an approved debonding agent shall be applied to the match-cast surface of segment. This specific product used shall be a type of curing compound.
5. ACTIVITY HOLD POINTS
Hold points will be identified in the Inspection & test Plan. Refer to the ITP "Precast segment production"
6. INSPECTION & RECORDS
All Inspection / check-lists & documents records will be identified in the Inspection & test Plan. Refer to the ITP "Precast segment production